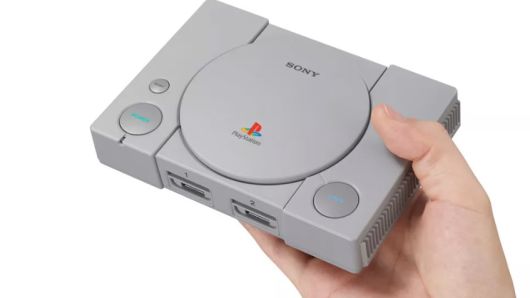 Sony to launch a retro PlayStation in time for Christmas
Sony plans to roll out  a mini version of its original PlayStation game console.
Capatalizing on the retro craze and nostalgia of gamers who grew up with the iconic device, the new PlayStation Classic will retail for $99 USD. This is a very  risky price point seeing that you can pick up an origional console for about $40 USD  on eBay these days.
It comes Pre-Loaded
Sony's revamp, though, comes pre-loaded with 20 games, including classic titles like Final Fantasy VII and Tekken 3, R4: Ridge Racer Type 4, Jumping Flash! and Wild Arms.
The Classic looks exactly like the original PlayStation, which launched in 1994, only the Classic is about 45 percent smaller.
Back then, it was a  huge hit for Sony. Infact, the origional PlayStation Classic became the first video game console to ship 100 million units worldwide.
Sony anticipates it's success!
Sony is anticipating the same success as Nentendo when they launched their NES Classic in 2016. The miniature replica of the 1985 console Nintendo Entertainment System quickly sold out in stores, with some consumers posting eBay listings for the $60 device with prices ranging between $200 and $500.